< Back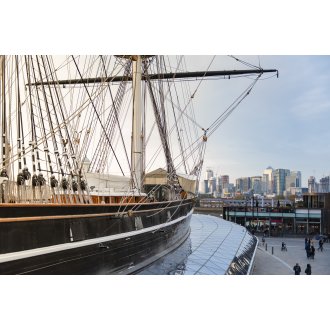 Win tickets to Cutty Sark and the Royal Observatory
Experience a delicious afternoon tea underneath Cutty Sark's gleaming hull
With breath‐taking views across the River Thames and to the city beyond, royal heritage, pioneering architecture and one of London's biggest Royal Parks, the UNESCO World Heritage Site of historic Royal Greenwich is one of London's most charming areas. Make the most of your day out: visit Royal Museums Greenwich and see five world‐class attractions set within easy walking distance of each other in this beautiful riverside setting just minutes from central London.
Stand on the Prime Meridian of the world at the Royal Observatory, catch a show at London's only Planetarium, find out what life was like on board the iconic Cutty Sark, discover epic stories of exploration at the National Maritime Museum and see world‐renowned art at the Queen's House. Then relax with a delicious Afternoon Tea underneath the hull of Cutty Sark, the historic ship that famously carried back tea from China almost 150 years ago.
What you can win:
- 2 Explorer Tickets to visit historic sailing ship Cutty Sark and the Royal Observatory
‐ Afternoon Tea for 2 in the cafe underneath Cutty Sark
---
This competition is now closed.